HYBRID Software and Steurs provide quality boost with Intelligent Flexo
06/05/2021
With 'Intelligent Flexo', HYBRID Software brings an innovative solution to the market that dramatically increases flexo output quality. It is a machine-independent software solution that adds microcell structures to the screening dots and thus increases the ink transfer from the plate to the substrate. The biggest advantages are lower ink consumption and increased print quality of flat tints, vignettes, barcodes as well as fine text.
This technology is based on the know-how used by Antwerp-based Steurs Graphic Solutions. The company has been around since 1949 and is today one of the leading prepress houses in the Benelux. Steurs combines more than 70 years of experience in prepress, packaging and publishing into one all-round service. Steurs' Managing Director Dirk Cantens adds: "We supply plates for all types of media, from paper to metal. Our customers are printers and brand owners who are extremely sensitive to both the stability and color consistency of their printed material and packaging. Ensuring quality and stability is one of our priorities, and we guarantee our customers a homogeneous, stable and 100% reproducible printing environment, regardless of the material to be printed on. Unburdening customers is our burden, and they know that no quality concessions are made at Steurs."
Innovate and keep innovating
Steurs has always been an innovator and to stay ahead of the competition, the company established its own R&D department in 2014, where they develop innovative solutions to increase the quality of their services even further. Tom De Bondt, Chief Technology Officer at Steurs, says: "R&D is critical to our philosophy. To be taken serious as a professional prepress partner, you must be able to innovate, and develop tailor-made solutions to customers' challenges. Our R&D department works closely with our sales team and production managers and sits almost always at the table when we're talking to brand owners and converters."
Still room for improvement
Flexo has many advantages over offset and gravure, like lower production costs and greater flexibility with regards to different substrates. But in the past, the print quality and consistency was not always top notch. According to Dirk Cantens, this changed when machine builders & plate suppliers introduced 'flat top dot' technologies several years ago. "This has greatly increased the quality of flexo printing. However, having said that, we believed that there was still room for improvement."
S-Dot development
To address these specific issues, back in 2014, the R&D department started developing several technologies to improve the quality of flexo printing. Tom: "Over the past 6 years, we developed our own screening technology under the name S-Dot. This product is now marketed by HYBRID Software under the name Intelligent Flexo, but more on that later. With Intelligent Flexo, the behavior of a flexo plate can be influenced locally or entirely in terms of ink transfer and dot gain. This makes it possible, for example, to achieve higher densities in flat tints, while dot gain can be limited in other protected areas. The quality boost by using Intelligent Flexo is very noticeable, among other things, by the elimination of edge void in barcodes and flexo edges in text and linework. Printing light tints and vignettes to 0%, or shadows up to 99%, is now perfectly feasible. Something that was almost impossible before."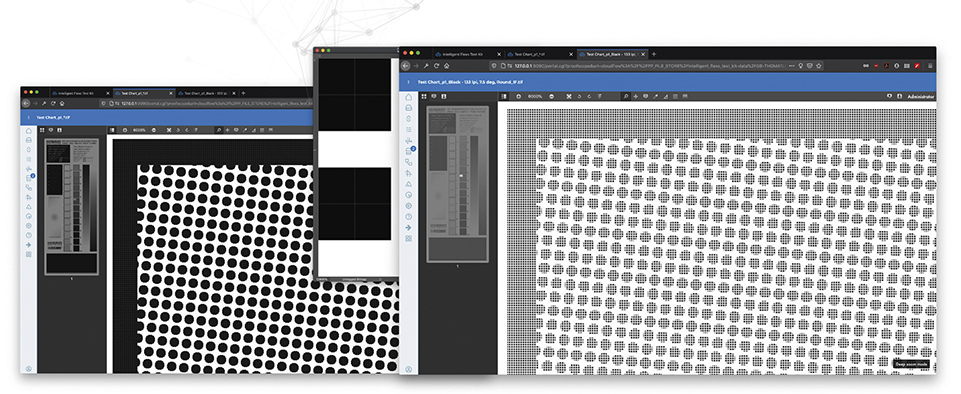 Tailor-made surface screening ensures perfect control over dot gain.
From corrugated cardboard to the label market
Initially, Steurs focused on corrugated cardboard applications in the development of Intelligent Flexo. With the many online stores that have been popping up like mushrooms lately and the increasing importance of shelf-ready packaging, corrugated cardboard is on the rise. With a better print quality, the expensive caching could be avoided, which would entail huge cost savings for the brand owners. Dirk: "One of the typical problems when printing corrugated cardboard is the 'washboard' effect. Due to minimal height differences in the cardboard, you get different pressure zones resulting in a kind of banding. The effect can be partly avoided by applying less pressure (kiss printing) on the press, but eliminating it altogether is almost impossible. Intelligent Flexo solves this problem largely by using an intelligent screening technology. When compared to traditional flexo plates, much less pressure is required on the plates, and that without compromising image quality, well on the contrary."
Once Steurs mastered the technique for corrugated cardboard, they set off to develop this technology for the label & flexibles market, because there as well, significant improvements and savings were possible. Tom adds: "In 2015, we finished second at the Packaging Innovation Awards with our technology. A clear signal to us that we were on the right track, and an incentive to further develop the technology. But with the expansion into the label market and the increasing volumes, a limitation also came to light. The process was quite labor-intensive and to use it on a larger scale, automating the process was a must. Since we already had a long-term relationship with HYBRID Software and their applications, they seemed like the right partner to further develop this together. To protect our pioneering work and our market position in the Benelux, we agreed with HYBRID Software that Intelligent Flexo would only be distributed in countries outside the Benelux."
Automate with CLOUDFLOW
In 2019, Steurs was also awarded Gold at the Global Flexo Innovation Award ceremony in Istanbul. In the same year, Steurs also sat down with HYBRID Software and started the collaboration to further develop the product as a module within the automation context of CLOUDFLOW. Because this concerns top technology from Flemish soil, a grant application was also submitted and obtained from the Flemish Agency for Innovation & Entrepreneurship VLAIO. Important in the further development was increased ease of use. Thomas Elton, Product Manager CLOUDFLOW at HYBRID Software says the following: "We didn't have to change anything about the technology itself, but where our added value came around, was mainly in the development & parameterization of a tool, which brings about a quality improvement for all possible flexo production machines and plates. In addition, unique algorithms have also been developed to fully automate the manual steps that Steurs used to apply."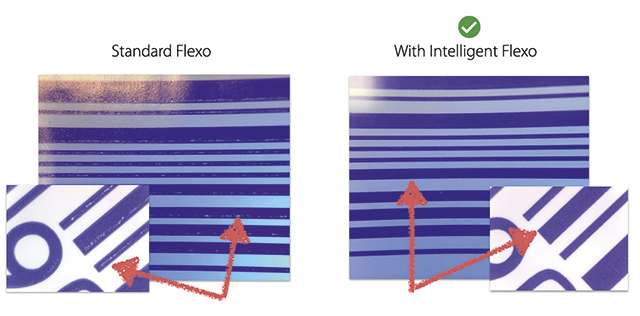 The typical edge voids for barcodes and linework disappear when using Intelligent Flexo.
Intelligent Flexo on the market
A year later, the egg was laid. Hybrid Software introduced Intelligent Flexo at the end of 2020, and the outlook looks promising. Bert Van der Perre, Associate Director of Sales at HYBRID Software explains: "With Intelligent Flexo, we offer a solution to flexo printers to drastically reduce ink consumption, which will have an immediate positive effect on the margins of the printed matter. In addition, we increase color strength and text sharpness of the prints. For the plate supplier, this is the ideal solution to increase the quality of its services without expensive upgrades or investments in new machinery."